Personal Loan Top up V/s Fresh Personal Loan
Banks which give personal loan to customers offer a top up to its customer after 9-18 months of the sanction date.
Under this programme, Bank identifies following points
No EMI is Due
No cheque bounces or EMI bounces
Cibil of the customer to check whether he has taken more loans
Job stability etc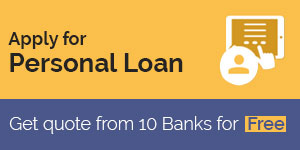 If all of the above are okay with the bank they give Top up loan to the customer in max 2 days.
The rate of interest is either same of lower by 1%.
So if a customer already has a Personal Loan and he needs another loan, he should check with the existing bank rather than the new bank as this loan will have less hassles rather than getting a new Personal loan.
But if other Banks are giving personal loan at lower rate, then he should opt for a new bank.
List of Bank which offers Top – UP Personal Loans Facilities: