Both Marriage and Home Loan are Long term relationships.How to manage them…
5 Reasons that Home Loan is a marriage like bond
"A Bad Home loan is like a bad marriage, it is easy to get into it than is to get out"
The analogy doesn't seem to end there. We have charted out 5 reasons that will prove that Home Loan is essentially a marriage.
Both are long term commitments: Marriage is a life time long commitment. The average duration of an Indian marriage is 40 years. On Similar lines, a home loan has a long term with possible tenures of up to 30 years. So, once you are in it. You are in it for good.
"Marriage and Paying off a huge Home loan are like eating an elephant. They both are going to last a long time, and after a while you're going to get sick of it." The key is not to lose focus, remember Marriage as well as your home is an asset that guarantees a sustainable future.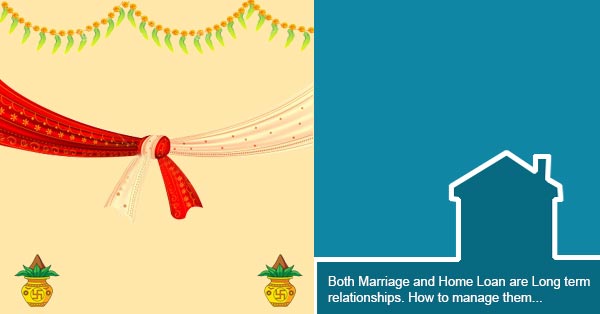 Do your best planning beforehand: Marriage requires lots of planning. From finding the right partner for you to finding the right wedding hall; it is a lot of hassle. Similarly, Home loans are complex. Your eligibility, maximum amount, interest rates, processing fees etc, understanding these and finding the right loan deal requires your attention and time. Don't go into any decision without proper planning. Whether it's your marriage or a home loan, know what's best for you and then take the final call. Brace yourselves.
Journey full of Ups and Downs: Now, you have made the call. So, hold tight to your decisions. There may be slight variations from the original plan. In marriage, a slight accident or health issue may alter your budget. Likewise, a large expense may make it difficult to make the monthly EMI payment of your home loan. On the other hand, if you get promoted or have extra money at the end of the month, you consider making your spouse happy and prepaying some of the loan amount. However, whatever may be the scenario; it is advised not to miss your monthly EMI because the penalty of missing EMI will mean losing extra money.
Demand loyalty: In every long term commitment it is important to demand loyalty from your partner. In your marriage, you shower your partner with gifts, love and in return want their trust and loyalty. In case of Home Loan, it is reasonable to expect the same level of trust from your bank. If you are consistent on your payments, your bank is likely to provide you with little perks along with the best interest rates in market.
Make Sacrifices: In a marriage, you have to make changes to your lifestyle. The choices you make are not just independent decisions anymore but are taken after taking your partner into consideration. After the marriage, you don't go into buying that fancy car without consulting your spouse. Home loan has a similar effect on your life. You cannot make haphazard fancy purchases because you have a commitment to keep. Making wrong decisions will burn a hole in your pocket and keeping up with the finances will become difficult.
So, let go of your desires of a sports car, XBOX, a pool etc. Be smart and buy these perishable items only if your pocket allows.
Marriage and Home loans seem like difficult commitments but if you make the right choice both will make your life better.
Have a Happy married life!!