10 Best Credit Cards in India 2023, Instant Apply Online
List of Top Credit Card in India on the basis of ✔ Income/ Salary ✔ Traveling ✔ Dining ✔ Entertainment ✔ Shopping ✔ Rewards Points ✔ Petrol Fuel Offers ✔ Lifetime Free Cards. EMI Schemes on Ebay, Snapdeal, Flipkart, Amazon, Jabong, Myntra Shopping Offer You can also check Zero Fee, Free Life time credits which offers basic deals.
Confused among features & benefits of different credit cards? Check these features before applying for any credit card: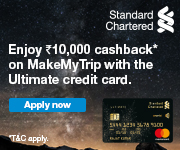 ✔ Fees and charges
✔ Latest offers on Travel
✔ Offers on Entertainment
✔ Offers on Dining
✔ Savings on fuel
✔ Benefits on online transactions & shopping
✔ Accidental cover
✔ Rewards points & cash back
Credit cards are now a need that very few of us can ignore. In today's world, everything is online and most people prefer plastic money over cash. So, in order to determine the best credit card as per your requirement, you must be aware of the benefits and features of different cards available in the market. The best way to choose a credit card is to be very true with your requirements and spending tendencies. If you choose a card whose reward structure matches your need, you can surely save yourself from debt. For eg. If you travel a lot by flight, a airlines miles card would be beneficial for you and if you drive a lot, a fuel card would be more useful.
List of Top 10 Credit Cards of India
| List of Best Credit Cards | Joining Fee | Annual Fee |
| --- | --- | --- |
| SimplySAVE SBI Card | INR 499 | INR 499 |
| BPCL SBI Card | INR 499 | INR 499 |
| American Express Membership Rewards Credit Card | INR 1000 | INR 4500 |
| ICICI HPCL Coral Credit Card | INR 199 | INR 199 |
| ICICI Bank Instant Platinum Credit Card | NIL | NIL |
| HDFC Doctor's Superia Credit Card | As applicable by the bank | INR 1000 |
| HDFC Regalia Card | INR 2500 | INR 2500 |
| Standard Chartered Manhattan Platinum Credit Card | INR 999 | INR 999 |
| SimplyCLICK SBI Card | INR 499 | INR 499 |
A Credit card is a product which gives you
Freedom to carry cash for your shopping thus adding convenience.
Credit of max 45 days from the day you spend without any charges.
Discounts, Cashback & Rewards on usage on buying certain products.
Things to Keep in Mind Before Choose the Best Credit Card:
Annual Fee – It's the fee that is charged by bank for giving you a particular Card or service. There are few Credit cards in Indian Industry which are Free.
Here's a list of Free Credit Cards in India.
List of Top 5 Best Petrol Credit Cards in India
| | |
| --- | --- |
| Best Fuel Credit Card | Offers |
| ICICI Bank HPCL Platinum Credit Card | Up to ₹ 100 Cashback on fuel purchases at HPCL pumps month on month, year on year can be availed when the Card is swiped on ICICI Merchant Services swipe machines, Save on 2.5% fuel surcharge, ₹ 500 Promotional Cashback |
| Standard Chartered Super Value Titanium Card | Earn 5% cashback on fuel spends in India, One time 100% cashback upto Rs 1,500 on fuel spends within 1st 90 days |
| SBI Simply Save | 2.5% Fuel Surcharge Waiver* |
Must Read Articles: How to use interest free period in credit cards smartly?
Also, let's take a look at the Bank wise breakup of the percentage of Credit cards allotted.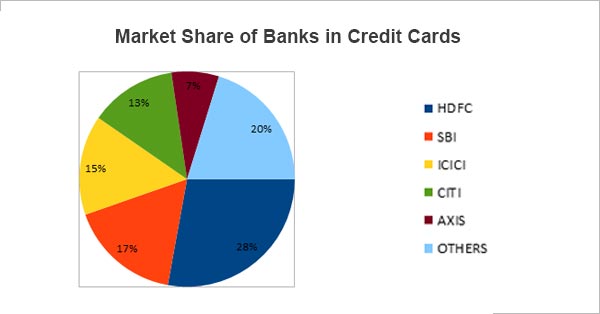 HDFC is the Indian market leader in issuing credit cards closely followed by SBI Card and ICICI Bank.
Conclusion-
1. If you need a credit card only for ad-hoc basis or just at times that you don't want to carry cash- opt for any credit card which has no fees. It will save you from any unnecessary charges.
2. If you have your own vehicle and you spend on petrol or diesel for more than 2000 a month- Opt for a petro card and start using that card for your refills- this will increase your overall savings.
3. If you are a frequent flier – Opt for travel cards- it will help you in getting miles or few tickets free in a year and can be the free holiday that you been looking for.
We hope this article was helpful and now you can make a diligent choice about the credit card to apply for.
Updated Information on Credit Cards in India
RBL Bank Popcorn Credit Card:
Welcome Offer
Enjoy a Discount of ₹1000 on a maximum of 4 tickets booked from BookMyShow.
The amount of ₹1000 is redeemable into 2 transactions of ₹500 each with a booking of 2 tickets per transaction.