Best Personal Loan in India June 2023
Want to know which is the Best Personal loan provider in India for June 2023? Compare top 10 banks on the basis of Interest Rates, Processing fees & prepayment charges. Instant apply for the best and cheapest personal loan in your city as per your salary. Lowest Interest Rates, Best Rates Available 2023 Personal Loan in Chennai, Bangalore, Mangalore, Cochin, kerala, pondicherry, ahmedabad, delhi, mumbai, nashik, pune, gwalior, ranchi, chandigarh, ludhiana, Goa, hyderabad, warangal etc.
Personal loan is a popular financial product in today's consumer world. There are many personal loan providers / banks in the market such as: HDFC, SBI, Bajaj Finserv, ICICI Bank, Standard Chartered, Axis Bank, Fullerton, Kotak, IDFC First and Indusind. It is essential to choose the Best Bank by comparing Documents, Interest rates offers, Process, Higher eligibility on loan amount.
Before you select any type of personal loan for yourself, it is mandatory to know what exactly a personal loan means and what are the characteristics of this financial product.
Check and Compare Personal Loan Interest Rates of Various Bank in India
What is Personal Loan and who is eligible to obtain it?
Personal loan is an unsecured loan given by Banks and NBFC (Non-banking Financial Institutions) to customers to avail this money for any personal need. In India, these loans are given in the range of approximately 50000 (50 thousand) to 5000000 (50 lakh) rupees. These loans are available for both Salaried and Self employed customers. Personal loans are not generally available for students or retired people. You can take advantage of these loans on the basis of your income and your past credit history.
Personal loan- From whom I can get?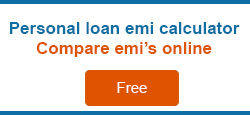 As this financial service is an unsecured one, you ay have to go through difficult filters to obtain it. Banks do not provide these loans as per the demand from the customers, in a way they are selective when it comes to provide these loans to customers. These institutions will look for stable income, assured sources of earning and credit history while availing this service to anyone. You have to find out which bank is the right choice for you and satisfactory to your requirements and payment options.
Here's some calculations for the Personal loan which helps you to know how much per month emi you have to pay for 1 lakh of loan amount for various tenure periods.
You can freely use the personal loan emi calculator to check EMI as per your loan amount, Tenure and interest rates – click here.
Factors that effect Personal loan
Working professionals: If you work in top 10000 companies in India you will be given the lowest rates. These are called Cat A OR Cat B companies by banks. It is considered as an internal policy of banking to promote their business.
Cibil Score – It's a score that a customer gets when he first opt for a loan or Credit card. Based on payment history on previous loans and Credit Cards, you score can vary from 0-900. 0 is when you don't have a single loan or credit card. Most Banks do not prefer fresh customers except HDFC Bank Personal Loan.
If you pay your card bills on times and your emis your score are in range of 750-900 which most banks accept you as a customer and ready to give you best offer. If your score is less than 750 then only few NBFC will do your case.
Key Features of Personal Loan
Wide range in Age of the borrower: If you are in between of age of 21 – 60 years, you are eligible to take personal loan.
70000 to 45 lakhs are the range of personal loans
Maximum tenure for repayment of loan are upto 5 years, in some cases upto 7 years.
Interest Rates starting from 10.75% and goes upto 24.00%
Lowest EMI starts from Rs. 2,162 per lakh.
Work Experience: Up to 3 years of total experience.
Processing Fees: Up to 2% to 5% of loan amount.
Documents Required: Address Proof, Identity Proof, Income Documents.