Personal Loan Aurangabad – Interest Rates 2023, Apply Online
Apply Personal Loan in Aurangabad – Instant E-approval, Special Offers, Best Personal loan interest rates and lowest EMI from all major banks in Aurangabad such as SBI, HDFC Bank, Citibank, Axis bank, Fullerton India, Bajaj Finance Standard Chartered.
Personal Loan Aurangabad details:
| | |
| --- | --- |
| Interest Rates | 10.99% – 20.75% |
| Processing Fees | 0.99% – 3.00% |
| Pre payment Charges | Nil – 5.00% |
| Repayment Period | Upto 7 years |
| Cibil Score | Min. 750 |
| Lowest EMI | Rs. 2174 per Lakh |
Personal Loan Interest Rates in Aurangabad 2023
Documents required for Personal Loan in Aurangabad
Following documents are required by financial institutions to process the loan application :
in case of Salaried
Identity proof
3 to 6 months Bank statements
Residence proof
Salary slip
Guarantors & their same set of documents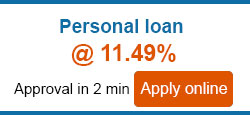 In case of Self Employed
Balance Sheets
Profit & Loss Account
Partnership Deed & other mandatory documents etc.
Another Loan Products for You to choose in Aurangabad:
Best Personal Loans in Aurangabad
Best Credit Cards in Aurangabad
About Aurangabad:
Modern banking in the district may be said to have begun when the Central Bank of India was established in Hyderabad State on 19 February 1932, at Jalna, and in next year i.e., on 20 December 1933, at Aurangabad. Later on in 1945 the Bank of Hyderabad was established under the Hyderabad State Bank Act of 1350 Fasli.
In the first decade of the twenty-first century, Aurangabad has seen a spurt in financial activities, with almost all public sector and private banks have opened up branches including the State Bank of India, Union Bank of India, State Bank of Hyderabad, Bank of Maharashtra, Citibank India, ICICI Bank, Bank of India, HDFC Bank, etc. Also Regional Rural Bank viz. Maharashtra Gramin Bank has its regional head office in Aurangabad city.
Bank Branches in Aurangabad for personal loans
✓ Bajaj finserv – Cts Number 18037, 1st Floor, Gopinath Chambers Above Jaidev Travels,, Jalna Road, Aurangabad, Maharashtra 431005
✓ Canara Bank – Saheb Chamber, Shahganj, Near Congress Bhavan, Aurangabad, Maharashtra 431001
✓ Indian Bank -Samarth Nagar, Aurangabad, Maharashtra 431001
✓ Axis Bank – Ghai Chambers, Plot No. 20 CIDCO, Town Centre Jalna Road, Aurangabad, Maharashtra 431003
✓ Vijaya Bank – P B NO 16, IMA Building, Adalat Rd, Near Shani Mandir, Kotla Colony, Aurangabad, Maharashtra 431001
✓ Bank of Maharashtra – MT Center, 1st floor, Kranti Chowk, Adalat Road, Aurangabad, Maharashtra 431001
✓ Union Bank – 28/29, Hajari Chember, Friends Colony, Station Road, Dist. Aurangabad,, Aurangabad, Maharashtra 431005
✓ HDFC Bank – 1st Floor, Part-A, Oberoi Towers, Jalna Rd, Opposite Government Milk Scheme, Ramanand Colony, Aurangabad, Maharashtra 431005