RBL Bank Business Loan Interest Rates | Documents | Information
Compare Ratnakar bank business loan interest rates with other banks online. Check Documents, Eligibility, EMI, Loan amount, repayment options at deal4loans.com.
RBL Bank Business Loan Features:
You can fetch between 10 lakh to 35 lakh loan amount
Repayment period of up to 3 years
No security or collateral required to avail this loan
Quick Turnaround Time for easy process
Who are eligible?
Following are the eligible for RBL Business loan:
All sole proprietors / proprietorship firms
All Partnership firms
All Pvt. Ltd. Companies
All closely held Public limited companies
Professionals – doctors, architects, chartered accountants, business consultants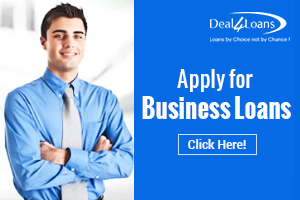 Eligibility & Loan Criteria for RBL Business Loans:
Business Loans can be availed by self-employed individuals, self-employed professionals, sole proprietorships, partnership firms and private limited companies (including closely-held public limited companies), with a profitable business for the past 3 years.
Applicant's age should be minimum 23 years at the time of application and maximum 65 years at loan maturity.
Minimum 5 years of experience required in the same line of business with at least 3 years of business establishment & operation in the same city. For self-employed professionals, minimum
4 years of post-qualification experience is required.
Minimum business turnover required is Rs. 1 Crore and for Professional / Service Sector, applicant's gross receipts should be at least Rs. 60 Lakhs.
Applicant must own either residence or office in his name or jointly with family members or resides in a residence owned by an immediate family member.
What is the interest rate charged on BIL?
Ratnakar bank offer eye-catching interest rates on the capability depending on loan amount, credit assessment and other limitations. Exact details would be provided by the sales officer.
Documents Required for Business loans from The Ratnakar Bank Ltd:
PAN Card – For Individual / Partnership Firm / Company
Identity Proof – Any one (Voter ID / Driving License / Passport / Photo Debit Card / Aadhar Card)
Address Proof – Any one (Voter ID / Driving License / Passport / Telephone Bill / Electricity Bill / Registered Lease Deed or Sale Agreement / Bank Statement / Ration Card / Co-operative Housing Society Receipt)
Ownership proof of either residence or office either in the name of applicant or jointly with family members
Business Continuity Proof – Any one document dated 5 years old (Bank Statement / Sales Tax Challans / IT Returns / Shops & Est. Certificate / Certificate of Incorporation / Partnership Deed)
Unsecured loan repayment track record of minimum 18 months
Letter certifying end use of the business loan funds on Business Letterhead
Passport Size Photographs of all applicants and co-applicants
For Self-Employed Individuals / Sole Proprietorships:
Latest audited ITR and financials for the last 3 years. (Balance Sheet, Profit & Loss A/c., Computation of Income along with all schedules.)
Bank statements from the borrower's main account/s for last 6 months and 3 months of all other bank accounts mentioned in the Balance Sheet
For Self-Employed Professionals
Latest audited ITR and financials for the last 3 years. (Balance Sheet, Profit & Loss A/c., Computation of Income along with all schedules.)
Bank statements from the borrower's main account/s for last 6 months and 3 months of all other bank accounts mentioned in the Balance Sheet
Professional Qualification Certificate and Degree Certificate for professionals. (Doctors, Architects, Chartered Accountants etc.)
For Partnership Firms / Private Limited Companies
Latest audited ITR and financials for the last 3 years. (Balance Sheet, Profit & Loss A/c., Computation of Income along with all schedules.)
Bank statements from the main account/s for last 6 months and 3 months of all other bank accounts mentioned in the Balance Sheet
Partnership Deed and partnership authority letter for partnership firms
Memorandum and Articles of Association and Board Resolution from the company
Certificate of Incorporation (COI) for companies
Latest shareholding patterns for Private Ltd. / Public Ltd. companies

Available Products of Ratnakar Bank Ltd.

Ratnakar Bank Business Loan
Ratnakar Bank Home Loan
Ratnakar Bank Personal Loan
RBL Loan Against Property
Ratnakar Bank Car Loan
Ratnakar Bank Credit Card
RBL Fixed Deposit Interest Rates