Best Car Loan in India June 2023
Top Car Loan 2023 – Lowest Interest Rates ✔ Loan Amount ✔ Instant e-Approval ✔ Specialties/features of Best Car Loan/Auto Loans ✔ Apply Online Now with Top banks.
Having a car is a dream of almost every one of us. It not only serves the purpose of transportation, but also acts as a fixed asset in the property. Nowadays, a car has become a necessity rather than a luxury. Many professionals have to travel a long distance from their houses to workplaces. In such cases, car becomes an easy and time-saving mode of transportation. Buying your own car or a used one is not difficult now. You can simply search for the best car loan and fulfill your dream of having a vehicle. Demand for finance of new cars has majorly arisen from the areas of Mumbai, Delhi, Bangalore, Rajasthan and Punjab. Since a shorter term loan, such as a 3 year loan, provides a lower rate of interest, majority of people prefer a shorter term of loan.
Get car loans at lowest interest rates for Hyundai Venue, Kia Seltos & MG Hector.
Best Car loan Interest Rates India 2023
| | | |
| --- | --- | --- |
| Car loan Banks | Interest Rates | EMI per Rs 1 lakh for 7 Years |
| Axis Bank | 7.99% | Rs. 1,558 |
| Bank Of Baroda | 7.10% – 10.10% | Rs. 1,514 – Rs. 1,665 |
| Bank of Maharashtra | 7.30% – 8.15% | Rs. 1,524 – Rs. 1,566 |
| Canara Bank | 7.30% | Rs. 1,524 |
| Central Bank of India | 7.25% – 7.70% | Rs. 1,522 – Rs. 1,544 |
| HDFC Bank | 7.30% – 10.00% | Rs. 1,524 – Rs. 1,660 |
| ICICI Bank | 9.00% | Rs. 1,609 |
| IDBI Bank | 7.50% – 8.10% | Rs. 1,534 – Rs. 1,564 |
| Indian Bank | 6.90% | Rs. 1,504 |
| Union Bank Of India | 7.40% – 10.50% | Rs. 1,529 – Rs. 1,686 |
| Punjab National Bank | 8.50% – 9.00% | Rs. 1,584 – Rs. 1,609 |
| State Bank of India | 7.20% – 7.90% | Rs. 1,519 – Rs. 1,554 |
| Uco Bank | 7.25% | Rs. 1,522 |
| Bank of India | 6.85% – 8.05% | Rs. 1,502 – 1,561 |
| United Bank of India | 8.50% – 9.00% | Rs. 1,584 – Rs. 1,609 |
| Syndicate Bank | 7.30% | Rs. 1,524 |
Specialties/features of Best Car Loan/Auto Loans
Car loan basically serves the individuals who are either salaried or self-employed. The vehicle loans are available for fixed tenure at variable interest rates. There are two types of interests available: fixed and floating. Generally, it has been observed that the interest rates on car loans 2023 vary often if compared to other loans. Also, they are considered as secured loans. Thus, lenders are ready to take more risks while offering this amount to the customer. Below are the factors which affect the car loan: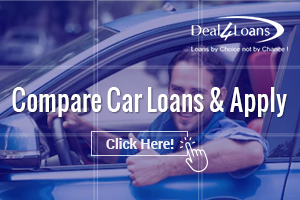 Income of the customer ( annual and monthly)– The salaried professionals can obtain loan around three times of their annual income, while self employed persons can apply for the amount five to six times of their annual income.
Prices of the cars– You have to check whether the price of the car is covered with the loan or not. Usually, 80-90% price is covered by the bank loan. However, you must calculate the car loan emi amount you are eligible to obtain and the actual price of the car.
Market interest rates and other charges– The availability of the car loan will depend upon the market demand for the same. It also varies according to the processing fees, charges and processing requirements etc.
Different Options available for Auto loans
Many banks and financial institutions offer car loans. It is a secured loan product which is also beneficial for the lender. The lender can seize the car, if buyer is unable to repay the loan amount. If you want to search for the best loan available, you have to find out the car model, your eligibility for the loan amount and tenure you would select to repay the loan. Later, you can go for the options that are available in the market.
There are many other banks which offer low interest rates and maximum tenure. You have to select the best car loan according to your capability to repay and requirement of the model of preferred car.
Top 25 Cars of India in terms of Sales in India
News About Car Loans
Here are some of the upcoming cars in India in June 2023:
Maruti Suzuki Jimny
Mercedes-Benz EQS SUV
Mercedes-Benz AMG SL
Toyota Taisor
Kia Seltos Facelift
Force Gurkha 5-Door
Maruti Suzuki Fronx CNG
Tata Punch CNG
Renault Triber Turbo
Kia Sonet CNG
These cars are expected to be launched in India in June 2023. The prices of these cars are not yet known, but they are expected to be in the range of ₹7 lakh to ₹2 crore.
Thanks, for reading this article and Hope It Clears all your doubts and In Future you get a best deal for your Car Loans.