Best Home Loan In India 2019 @ 8.05% Dec
Want to know which is the Best Home loan provider in India for December 2019? Which is the cheapest home loan available in India on the basis of Interest Rates? Building or buying home is a dream of every person. Do you want to fulfill your dream of having your own house? Now, changing your dream into reality is possible with Deal4loans! We believe in loans by choice and not by chance. At Deal4loans, We give you a chance to compare the best offerings in the market and make the best possible choice.
Latest Update as on 1 Dec 2019 – As per New RBI rule, most of the banks attached home loans with RPLR rates. At present, State Bank of India, offer lowest rates on housing loans @ 8.05% in special cases. HDFC Ltd, ICICI Bank, Oriental Bank of Commerce, LIC Housing all banks also cuts rates as per RLPR.
Home Loan applications received for rupees ₹ 419,027 crores till 13 December 2019
While comparing home loans, it is necessary to check some key facts from different lenders. The major key points of comparison when it comes to loans are as follows:
✔ Interest rates
✔ Processing fees
✔ Turnaround time
✔ Loan to value Ratio
However, you need to view the loan in the entire package and not just focus on individual elements. If a loan has a very low interest rate, the chances are the fee structure is high.
Best Home Loan Interest rates for the month of December 2019
Interest rate offered is the primary factor of comparison. It affects your monthly EMI and total amount payable. For a long duration loan it is advised to go for a home loan with low interest rate.
Let's first know which bank are currently favorite of home loan borrowers as per ICRA
| | | |
| --- | --- | --- |
| S.No | Bank Name | Market Percentage |
| 1 | SBI Home Loan | 34.00% |
| 2 | HDFC Ltd | 24.13% |
| 3 | LIC Housing | 05.83% |
| 4 | ICICI Bank | 13.10% |
| 5 | PNB Housing Finance | 6.23% |
| 6 | IDBI Home Loan | 4.67% |
| 7 | Axis Bank | 4.22% |
| 8 | Others | 6.32% |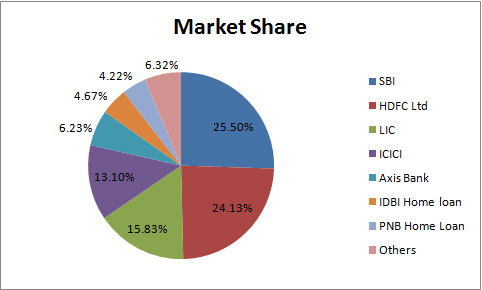 1. Share of home loans in Bank Lending is 11.00%
2. Size of Home Loan Industry is 13.5 lakh Lakh Crore in Fiscal Year 2018
Housing Finance Market
| | | |
| --- | --- | --- |
| Lender | Loans in Crore | Market Share |
| HDFC Ltd | 176000 | 16.60% |
| SBI | 170899 | 16.20% |
| ICICI Bank | 99327 | 9.40% |
| Axis Bank | 57335 | 5.40% |
| DHFL | 38964 | 3.70% |
| Can Fin | 9278 | 0.90% |
| GIC Housing | 7224 | 0.70% |
| LIC HFL | 114069 | – |
| Indiabulls | 58224 | – |
Eligibility Calculator: How much loan am I eligible for?
Looking for how much loan amount you can get from bank for your dream home – Don't wait!!! Check with Home Loan Eligibility calculator.
Most of the customers first prefer to choose the property according to their needs and priorities and then apply for the loan among the options available. However, it may happen that they are not eligible for the larger amount of home loan. Therefore, when you finalize any home, it is essential to know whether you can obtain loan on that property and the exact amount you can apply for. It will prepare you in advance before buying the home and avoid problems in the future. It may happen that the properties under construction are not liable assets for obtaining home loan. Therefore, it is mandatory to check these details with your bank before you decide to buy a home.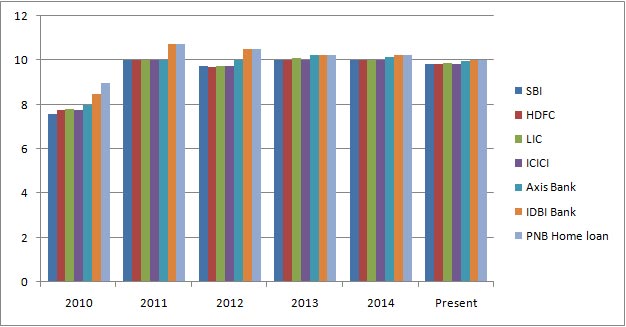 Home Loan Processing fees of Major Banks in 2019
Bank
Processing Fees
Pre Payment Charges
ICICI Bank
0.50% – 1.00% of the loan amount or Rs. 1500/- (Rs. 2000/- for Mumbai, Delhi & Bangalore), whichever is higher + applicable Service Tax & Surcharge
Nil
HDFC Ltd
0.5% or 10,000+service tax, whichever is higher
Nil
SBI Home Loan
0.40 % of loan amount, up to a minimum of ₹10,000 +GST and maximum of 30,000 +GST
Nil
Axis Bank
Up-to 1% of the loan amount subject to minimum of Rs.10,000/-
Nil
LIC Housing
Up to 1 Crore : 10,000 + GST
1 Crore & above : 25,000 + GST
Nil
IDBI Home Loan
Nil
Nil
PNB Home Loans
0.50% of the loan amount
Nil
Allahabad Bank
0.50% of the loan amount or maximum of Rs 10,000/- + service tax
NA
Citibank
Rs.5000 (Application fee)
Nil
Syndicate Bank
0.12% of the loan amount or maximum Rs 5,000
NA
Punjab National Bank
Nil
Nil
Bank of Baroda
0.25% of the loan amount or maximum of Rs 20,000
NA
Ease of Home Loan Processing
The procedure to apply for home loan is a bit time consuming. You have to submit a large set of income and property related documents and the approval of the loan differs from bank to bank. There are many agents who specialize in the bank processes, but the credibility of such agents is under question. So, to choose the best bank to apply for home loan as per your convenience, you must do a little research in advance.
Keeping in mind the above things, you can surely save yourself from wasting your time as well as from fraud agents. We at Deal4loans are available for your service through this process and to guide you in making a diligent choice between Good and Bad loan.
Average rating:
13 reviews
Dec 15, 2017
fast cash............
We give out loan to interested individuals who are seeking loan with good faith.Are you seriously in need of an urgent loan? then you are at the right place. We give out business loan,personal loan, contact us for your loan request to meet your demand and set out from financial problem.
Oct 31, 2017
Yes
Do you need any types of financial services offer?
Jul 22, 2017
Best way to find the better deals.
Best way to find the better deals.
Jul 22, 2017
banks interest rates comparison
Nice platform to get the best bank rates..
Jul 22, 2017
Great Service
Thanks team for higher quality service
Jul 20, 2017
Home loan
greet platform for comparison.
Jul 20, 2017
Best Service
Good platform to choose best rates.
Jul 18, 2017
Nice Service
very good and active service by the people from D4L. Appreciable.
Jul 18, 2017
Best Service
Thanks to the team, the required loan has been given & i am satisfied.
Jul 13, 2017
Home Loans
A good idea to compare & decide which one is better and easier on pocket.
Jul 13, 2017
Good platform
Good platform to choose best rates.
Jul 11, 2017
Helpful
Helped me choose the best bank suitable for my home loan. A competent team.
Jul 7, 2017
Helpful
Its one of the best article which helps us to know what are the charges of all banks, processing fees & share in market of banks. so anyone can choose the best as per watching all details. helpful/