Personal loan or Gold loan – Which is better?
Indians have always been fascinated with Gold, be it as an investment or saving. So far the gold loan market was dominated by non banking finance companies but gradually banks have also started entering the business thereby giving a clear indication of its viability as an effective loan product. But how good a gold loan is in comparison to personal loan is a good question which should be answered.
A personal loan is mostly an unsecured loan taken for a variety of purposes like marriage, purchase of consumer durables, a family vacation amongst others. A gold loan on the other hand is a secured loan taken by keeping gold as collateral.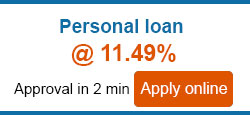 Since most households have investments in gold so the idea of mortgaging it to meet immediate fund requirements seems to be a lucrative option. But a personal loan scores over gold loan in certain aspects like interest rate, tenor and charges.
Though usually gold loan carry lesser interest than personal loans, interest rates on gold loans are dependent on loan to value (LTV) ratio. This means that greater the percentage of funding sought by the borrower against the value of gold, higher is the interest rate charged by the lender. This is because the lender associates a risk premium with the interest. Also lenders value gold at price lower than the market price so as to shield themselves from market fluctuations.
The amount of loan sanctioned depends on the credit worthiness of the seeker. A good credit history can fetch a personal loan at 14-15% interest (which is much cheaper than the rates offered for a gold loan). If the seeker has a home loan running then he can take a personal loan on the mortgaged property thereby making the interest rate even cheaper.
Gold loans are short term loans and mostly do not associate EMI facility with them. Thus if the seeker is on the lookout for a long term loan with repayment in the form of EMI, a personal loan is more suitable over a gold loan.
Gold loans offered by banks are cheaper than the ones offered by NBFCs. NBFCs normally charge a fixed interest on loans, but banks offer the same in a reducing balance format which makes it cheaper. However, banks charge processing fees for loan disbursed which is not done by NBFCs. So one needs to compare which lender is giving a better deal.
Usually in case of a gold loan, if one is unable to repay the loan within the stipulated time, then the lender auctions the gold after 6 to 12 months of expiry of tenor. Since the gold has been valued lower than market price by the lender it is also sold at lower prices. Thus whoever buys gold from such auctions gets it at significant low price!
To conclude, Gold loans are a better option for people having not so good credit history. As financial institutions don't consider the credit history of the seeker before sanctioning the loan; disbursal is considered to be the fastest in case of gold loan as compared to other loan products.