MoneyTap Instant Personal Loans upto 5 Lakh, Approval on Application
Looking for instant online personal loans? Apply for a personal line of credit up to 5 Lakhs @ low interest rates and get approved in just 4 mins with MoneyTap.
Compare Interest Rates, Eligibility and Apply online instantly. Check CIBIL score absolutely FREE.
Here's why you should get MoneyTap Personal Loan!
Flexibility – You can borrow as little as ₹3,000 up to your approved Credit limit, anywhere, anytime – no questions asked
No Usage = No Interest – MoneyTap don't charge interest on your entire Credit Line but only on the amount you use.
Flexible EMI – Choose an EMI tenure that suits you best, it can range from 2 – 36 months, and repay with just one tap
Money for Life – Whenever you repay EMI, your Credit Line gets recharged with the same amount. You can borrow money multiple times without extra paperwork
Use as Cash or Card – Your credit line, your choice. Transfer money to bank account or use as credit card with reward points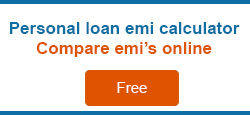 How to Apply for a MoneyTap Personal Loan?
Step 1 – Download & Register
Fill your basic details and know if you qualify for a loan in real-time.
Step 2 – KYC Documentation
After pre-approval, we'll schedule a KYC visit to collect your documents for final approval.
Step 3 – Start Using Funds
Once you receive the final approval, your credit line is ready to use – anytime, anywhere.
Step 4 – Choose flexible EMIs
Repay your borrowed amount in flexible EMIs of 2-36 months right from the app.
Documents Required for Instant approval loans:-
The documentation process is very fast in personal loans in India. Following documents are required by financial institutions to process the loan application:
Pan Card Number
Professional Selfie
Address Proof
ID Proof
MoneyTap Personal Loan Eligibility
You can always start by checking out with different banks offering you the loan for the best offers – interests – EMI schemes etc. Also find out the eligibility criteria and the documents required to submit before you apply.
Must be a full-time salaried employee with a minimum take-home salary of ₹ 20,000/month
OR
Must be a self-employed professional with an income of at least ₹ 20,000/month
(Only certain professionals like doctors, lawyers, or business owners qualify)
Must be a resident of one of the following cities:
Ahmedabad, Ambala, Anand, Aurangabad, Bengaluru, Bharuch, Bhopal, Bhubaneshwar, Chandigarh, Chennai, Coimbatore, Dehradun, Delhi, Erode, Faridabad, Gandhinagar, Greater Noida, Ghaziabad, Guntur, Gurgaon, Guwahati, Haridwar, Hyderabad, Indore, Jaipur, Jodhpur, Kochi, Kolhapur, Kolkata, Lucknow, Mangalore, Mohali, Mumbai, Mysore, Navi Mumbai, Nagpur, Nashik, Noida, Panchkula, Pune, Raipur, Rajkot, Salem, Secunderabad, Surat, Thane, Tirupati, Trichy, Vadodara, Vijayawada, Visakhapatnam