Get Instant Personal Loans with No Securities, No Guarantor 2019
Need cash for expands your business, renovate dream home, children education, or taking that dream vacation with your loved ones? All this and more are made possible through Instant Personal loans with no securities.
With exciting schemes, easy repayment options and competitive interest rates, Personal Loan is a hassle-free experience.

Compare Personal Loan Rates – Eligibility – Process of Top 10 Banks. Check CIBIL score absolutely FREE.
Special features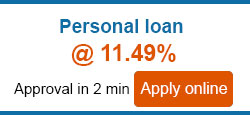 Here are some of the features of the personal loan you can avail of:
A variety of loans available to Salaried and Self Employed Individuals
Loan Amount available

Upto Rs 30 Lacs for salaried
Upto Rs 10 Lacs for Self Employed

Competitive Interest Rates
No Securities, Collaterals or Guarantors required
Repayment Options varying from ECS, PDCs or Account Debits
Easy documentation and quick processing
Compare upto 5 Banks for Personal Loan and choose the Best Deal with deal4loans.com