Car Loan Trends for April 2015 -
Festival Season begins & banks starts to luring customers towards the branches by offering lowest interest rate deals on car loans. SBI, IDBI, Dena Bank & Pnb cut its interest rates to 10.55%, 10.25% & 10.65% respectively. SBI offers valid till 31st jan 2014.
Special offers on Cars
On time to time basis Banks have tie ups with car manufactures and they give discounts via lower rates.

The Latest offers on cars by banks and Vehicle Companies:
1. SBI offers 10.40% (for women) and 10.45% (for others) rate of interest on all tenures to new car loan customers.
2. On a purchase of any vehicle from our Tata Nano range, enjoy maximum benefits of up to Rs. 50,000*.
3. Axis Bank offers 11.50% rate of interest on car loans.

Car Loan applications received for

16,850 crores till 25 April 2015
* Quotes are totally free for customers

For EG: If you take a car loan of 4 lakhs for 4 years and at rate of 10.00%.
Your EMI will be Rs.10,145 and by paying for 4 years you will give an extra of Rs.86,961 as interest. So if you are okay to pay that extra amount, go for the car loan.
To check how much you are paying extra, check interest rates and calculate EMI through Our calculator.

The other function is that how much Bank is ready to give you- How much car loan can I get ?

Banks to give car loan see your income and ability to pay and also see what is the total value of the car. So banks give 80-85% value of the car but also check whether you have income and enough surpluses to pay the EMI every month.
To figure out your ability to pay car loan - Banks check what your income is and what the other Emi you are paying are.
They deduct the Emi and on the rest disposable income can give you 50-60% equal to you income.

For E.g
Income – 30000 per month
Existing Emi - 8000 , So Net income=22000 , so your emi can go upto 60% of 22000 which is then divided by emi per lac and hence your loan amount is identified.

Now when you know how much you want to pay extra for Car loan and how much an average you can get, it is important to pick the best Bank.

The Banks who are Giving Car loans in India are as follows
HDFC Bank Car Loan
HDFC Provides a Quick and Easy car loan with Easy Documents, EMI Options and Low Interest Rates… Read More
SBI Car Loan
Lowest interest rate, Low processing fee, processed through speedy delivery channels with total transparency….Read More
ICICI Bank Car Loan
Compare Interest Rates, EMI, Documents and Eligibility for ICICI Car loan. Apply online for car loan…..Read More
Axis Bank Car Loan
Compare and Choose Interest Rates, Documents, EMI, and Features of Axis Bank Car Loan…Read More
Kotak Mahindra Car Loan
flexible schemes to suit your needs, hassle-free documentation and quick processing….Read More
Bank of India Car Loan
Get Details on Eligibility, EMI, Interest Rates, Documents, Eligibility of BOI Car Loans…Read More
How to choose which is the best Bank in above to get Car loan
These are the points of comparision
1. Interest rate charged by Banks
2. Processing fee charged by Banks.
3. Prepayment Charges in case you can afford to pay earlier.

So if you multiply the emi per month that you get from Bank and add the processing fee and deduct the loan amount , you will get to know how much extra you are paying for the loan and which is the cheapest for you.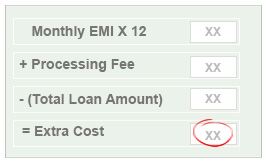 Are the Car loan rates different for different people?
Yes Banks do give preferences to certain set of customers for lower rates and fees.

The factors are :
1. Its gives lower rates who have the salary accounts with the same Bank.
2. It gives lower rates to employees of top 5000 companies in India.
3. Based on your income per month you might get some waivers or on the total loan amount you may get cheaper rates.

How does Cibil and Credit Bureau effect my application?
Yes, your car loan application can be rejected if your credit score is not good. Here are few things that you should know. A cibil or credit score of above 750 will get you approval from all Banks. From 650 -750 there will be certain Nbfc who may be able to give you loan.
If you haven't taken any credit card or loan your cibil score is 0 and there will be less Banks to give you loan at that time and best is to approach the bank where you have account.
If you have applied and have got rejected your cibil score and it's your first loan then your score is -1 and most Banks will not give you loan.

Special offers on Cars
On time to time basis Banks have tie ups with car manufactures and they give discounts via lower rates.

The recent such offers are
1. 0 % Foreclosure charges on new car loans post completion of 24 months on Maruti Hyundai Toyota and Honda Cars.
2. Special Schemes on Renault Duster, Mahindra XUV 500.
3. Discount Schemes on Hyundai Cars up to Rs.150000 (*View More)

Loan for Highest Selling and most popular Cars of India 2015: