Personal loans in Faridabad | Interest Rates 2022 | EMI | Documents | Apply
Apply Personal Loan in Faridabad: Get Quotes on Instant E-approval, Special Offers, Best interest rates and lowest EMI options from all major banks in Faridabad through Deal4loans.
Personal Loan Faridabad details:
| | |
| --- | --- |
| Interest Rates | 10.99% – 26.00% |
| Processing Fees | 0.99% – 3.00% |
| Pre payment Charges | Nil – 5.00% |
| Repayment Period | Upto 7 years |
| Cibil Score | Min. 750 |
| Lowest EMI | Rs. 2174 per lac |
Personal Loan Interest Rates in Faridabad 2022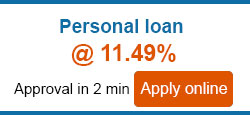 Occasion of wedding has a great importance in our society. Thus, making it a memorable event to remember forever we need to spend a lot. To avoid any shortfall at this occasion, personal loan is very much supportive. Planning of excursion to outside India sometimes becomes not feasible due to lack of fund. One may go ahead with his plan with support of personal loan.
You can get Lowest Interest Rates on Personal loans in Faridabad, if you are working for these Companies:
✓ HCL Technologies ✓ Tata Consultancy Services ✓ Aricent ✓ Accenture ✓ Genpact ✓ Aon Hewitt ✓ Wipro ✓ Sapient
✓ IBM ✓ Ericsson-Worldwide ✓ Evalueserve
Eligibility Or Loan Amount in Faridabad – Depends on your Credit Score, Bank Policies, Company in which you are working, your Income or salary, Area in which you are live, Work experience etc. Or better to pay your credit cards or loan amounts on time to get more loan amount from banks at the time of apply new personal loans.
Checklist of Documents required for Personal Loan in Faridabad:
The documentation process is very fast on Personal loans. Following documents are required by financial institutions to process the loan application:
Following documents are required by financial institutions to process the loan application :
in case of Salaried
Identity proof
3 to 6 months Bank statements
Residence proof
Salary slip
Guarantors & their same set of documents
In case of Self Employed
Balance Sheets
Profit & Loss Account
Partnership Deed & other mandatory documents etc.
About Faridabad:
Faridabad is the largest city in the north Indian state of Haryana, in Faridabad district. It is a leading industrial center and situated in the National Capital Region (India) near the Indian capital New Delhi. It is located between Delhi, Noida, Greater Noida and Gurgaon.
List of Bank Branches for apply personal loans in Faridabad
| | | |
| --- | --- | --- |
| Bank | Address | Pincode |
| Axis Bank | SCO-8, HUDA Shopping Centre, Sector 16, Faridabad | 121002 |
| Bajaj Finserv | SCO 57, 2nd Floor, Pristine Mall, Sector -031, Faridabad, Haryana | 121001 |
| HDFC Bank | 6, Dr Ambebkar Marg, Faridabad, Haryana | 122006 |
| ICICI Bank | Sector 16, Ground Floor, SCO No. 2, Sector 16, District Center, Faridabad | 121002 |
| Indusind Bank | Ground Floor,1-A268,NIT,New township,Neelam Bata Road,Faridabad | 121001 |
| Kotak | Ground Floor, SCO No. Center,, 2, Sector 16 Rd, Faridabad | 121002 |
| Tata Capital | SA- 3, 2nd Floor, Crown Plaza, Sector-15A, Mathura Road, Faridabad | 121007 |