Personal Loan Lucknow | Interest Rates 2022 | EMI | Documents | Apply
Now Apply Personal Loan in Lucknow: Get Quotes on Instant E-approval, Special Offers, Best interest rates and lowest EMI options from all major banks in Lucknow through Deal4loans.
Personal Loan Lucknow details:
| | |
| --- | --- |
| Interest Rates | 10.99% – 20.75% |
| Processing Fees | 0.99% – 3.00% |
| Pre payment Charges | Nil – 5.00% |
| Repayment Period | Upto 7 years |
| Cibil Score | Min. 750 |
| Lowest EMI | Rs. 2174 per Lakh |
Personal Loan Interest Rates in Lucknow 2022
Documents requirement for Personal Loans Lucknow: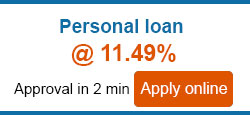 Lucknow: Personal Loan
Lucknow, a capital city of India is center for commerce and cottage industries. It has also taken pace in information technology sector as well.
It is quite obvious for residents of Lucknow to live with high standard of life. For an augmented living one looks for high tech consumer goods. Though our purchasing power has increased considerably, but occasionally, due to some unexpected expenses we are caught in excess spending. Personal loan is such a debt instrument that resolves the financial crisis.
As the Lucknow's infrastructure development is on fast pace. More and more people like to invest in real estate. It is quite common that people take personal loan and book plot or flat to earn profit in long period.
Medical exigency and marriage are other reasons for which personal loan can be availed.
Documents requirement for Personal Loans Lucknow:
Following documents are required by financial institutions to process the loan application :
in case of Salaried
Identity proof
3 to 6 months Bank statements
Residence proof
Salary slip
Guarantors & their same set of documents
In case of Self Employed
Balance Sheets
Profit & Loss Account
Partnership Deed & other mandatory documents etc.
Address / Location of Major Banks for Personal loans in Lucknow:
| | |
| --- | --- |
| IDBI Bank | Vishal Khand, Vishal Khand, Near L D A Market, Gomti Nagar, Lucknow, Uttar Pradesh 226010 |
| Corporation Bank | 60, Mahatama Gandhi Marg, Mahatama Gandhi Marg, Near Northern Railway Office, Hazratganj, Lucknow, Uttar Pradesh 226001 |
| Union Bank of India | Dr. V.N. Verma Road, Aminabad, Lucknow, Uttar Pradesh 226001 |
| ICICI Bank | Bhootnath Market, Bhootnath Market, Near Faizabad Road, Indira Nagar, Lucknow, Uttar Pradesh 226016 |
| Syndicate Bank – Gomtinagar | 1/6, Viram Khand, Patrakarapuram Crossing,Gomti Nagar, Lucknow, Uttar Pradesh 226010 |
| Union Bank of India | UP State, Agro Industrial Corporation, Vidhab Sabha Marg, Lucknow, Uttar Pradesh 226001 |
| Punjab National Bank | 94, M G Road, M G Road, Lucknow, Uttar Pradesh 226001 |
| Syndicate Bank | Gole Market, Near Ekta Park, Mahanagar, Lucknow, Uttar Pradesh 226006 |
| Dena Bank | 1/1, Naval Kishor Road, Naval Kishor Road, Near Leela Cinema, Hazratganj, Lucknow, Uttar Pradesh 226001 |
| HDFC Bank Ltd | A-1/15, Puraniya Chauraha, Puraniya Chauraha, Near Sitapur Road, Aliganj, Lucknow, Uttar Pradesh 226020 |
| Central Bank Of India | P.B.NO.161 72, Mahatma Gandhi Marg, Hazratganj, Lucknow, Uttar Pradesh 226001 |
| Allahabad Bank | Mahatma Gandhi Marg, Mahatma Gandhi Marg, Near Governer House, Hazratganj, Lucknow, Uttar Pradesh 226001 |
| Central Bank of India | Butler Colony, Lucknow, Uttar Pradesh |
| Indusind Bank | Ks Trident,, 10, Rana Pratap Marg, Civil Lines, Lucknow, Uttar Pradesh 226001 |
| Canara Bank | 44/15, Nawal Kishore Road, Opposite Leela Cinema, Sapru Marg, Prem Nagar, Hazratganj, Lucknow, Uttar Pradesh 226001 |
| Central Bank of India | Cantonment Road, Husainganj, Lucknow, Uttar Pradesh 226018 |
| Corporation Bank | Atul Market, Opposite Lekhraj Market, Faizabad Road, Faizabad Road, Lucknow, Uttar Pradesh 226016 |
| Gramin Bank of Aryavart | A-2/46, Vijay Khand, Gomati Nagar, Lucknow, Uttar Pradesh 226010 |
| State Bank of India | Balaji Complex, Kanpur Road, Kanpur Road, Krishna Complex, Krishna Nagar, Lucknow, Uttar Pradesh 226012 |
| Bank of Baroda | Awadh Tower, Naval Kishore Road, Naval Kishore Road, Near LIC Building, Hazratganj, Lucknow, Uttar Pradesh 226001 |