Personal Loan Varanasi | Interest Rates 2020 | EMI | Documents | Apply
Apply Personal Loan in Varanasi – Now you can get Instant E-approval, Special Offers, Best interest rates and lowest EMI options from all major banks in Varanasi through deal4loans.
Personal Loan Varanasi details:
| | |
| --- | --- |
| Interest Rates | 10.99% – 26.00% |
| Processing Fees | 0.99% – 3.00% |
| Pre payment Charges | Nil – 5.00% |
| Repayment Period | Upto 7 years |
| Cibil Score | Min. 750 |
| Lowest EMI | Rs. 2174.26 per lac |
Personal Loan Interest Rates in Varanasi 2020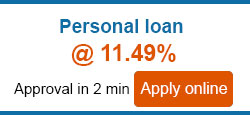 Varanasi: Personal Loan
Often called as "spiritual capital of India," Varanasi is center point for cottage industry that include silk weaving, carpet weaving and zardozi.
Though the people in Varanasi are traditional yet their attraction towards hi-tech electronic goods is fast growing. They try their best to buy these products from their saving but sometime they encounter with financial shortage. In order to fulfill the dream they have to knock their bank for personal loan because borrowing from other source may carry higher interest rate.
Additionally, marriage, banquet and excursion are most common requirement for personal loan.
At the time of haste, one has no time to visit banks for lowest interest rate of different banks and other benefits. To facilitate customers, we at deal4loans offer quick services to discerning clients.
Eligibility Or Loan Amount in Varanasi
– Depends on your Credit Score, Bank Policies, Company in which you are working, your Income or salary, Area in which you are live, Work experience etc. Or better to pay your credit cards or loan amounts on time to get more loan amount from banks at the time of apply new personal loans.
Checklist of Documents required for Personal Loan in Varanasi:
The documentation process is very fast on Personal loans. Following documents are required by financial institutions to process the loan application:
Documents requirement for Personal Loans Varanasi:
In case of Salaried
Identity proof
3 to 6 months Bank statements
Residence proof
Salary slip
Guarantors & their same set of documents
In case of Self Employed
Balance Sheets
Profit & Loss Account
Partnership Deed & other mandatory documents etc.
Location / Address of Major Banks in Varanasi City for Personal Loans:
| | |
| --- | --- |
| Bank Name | Varanasi |
| Canara Bank | Sankat Mochan Rd, Naria, Varanasi, Uttar Pradesh 221010 |
| State Bank of India | Kamachha Rd, Ashfaq Nagar, Bhelupur, Varanasi, Uttar Pradesh 221010 |
| IDBI Bank | D-38/115-117, St Kabir Road, Maidagin Circle, Kotwali, Varanasi, Uttar Pradesh 221001 |
| ICICI Bank | Sigra, Varanasi, Uttar Pradesh 221010 |
| Union Bank of India | Durgakund Rd, Jawahar Nagar Colony, Bhelupur, Varanasi, Uttar Pradesh 1800 22 2244 |
| Punjab National Bank | Pahalwan Sweet House, Pandit Manmohan Malviya Rd, Naria, Varanasi, Uttar Pradesh |
| Bank of India | Durgakund Rd, Bhelupur, Varanasi, Uttar Pradesh 221001 |
| State Bank Of India | Mahmoorganj, Varanasi, Uttar Pradesh 221010 |
| Canara Bank | Sankat Mochan Rd, Naria, Varanasi, Uttar Pradesh 221010 |
| State Bank of India | Kamachha Rd, Ashfaq Nagar, Bhelupur, Varanasi, Uttar Pradesh 221010 |
| Bank of Baroda | Lahurabir Rd, Ramakanth Nagar, Varanasi, Uttar Pradesh 221001 |
| Union Bank of India | Rathyatra – Mahmoorganj Rd, Varanasi, Uttar Pradesh |
| State Bank of India | Lanka, Pandit Manmohan Malviya Rd, Varanasi, Uttar Pradesh 221005 |
| BOB | Luxa Road, Near Gurubagh Crossing, Luxa Rd, Sidhgiribagh, Varanasi, Uttar Pradesh 221001 |
| State Bank of India | Banaras Hindu University Campus, Varanasi, Uttar Pradesh |
| State Bank of India | Sikraul, Varanasi, Uttar Pradesh |
| Union Bank of India | Rathyatra – Mahmoorganj Rd, Varanasi, Uttar Pradesh |
| Axis Bank | Ground Floor, Building, No. B 30/69-70-71, Part Of SM Plot No. 53, Mauza Nagwa, Pargana Dehat Amanat, Lanka, Varanasi, Uttar Pradesh 221005 |
| BOB | Luxa Road, Near Gurubagh Crossing, Luxa Rd, Sidhgiribagh, Varanasi, Uttar Pradesh 221001 |
| Union Bank of India | SA-1/159-1, Ghazipur Road, Off Kachehari Rd, Khajuri, Pandeypur, Varanasi, Uttar Pradesh, 221002, |