Personal Loan Noida – Interest Rates 2023, Apply Online
Apply Personal Loan in Noida – Now you can get Instant E-approval, Special Offers, Best interest rates and lowest EMI options from all major banks in Noida through deal4loans.
Personal Loan Noida details:
| | |
| --- | --- |
| Interest Rates | 11.50% – 26.00% |
| Processing Fees | 0.99% – 3.00% |
| Pre payment Charges | Nil – 5.00% |
| Repayment Period | Upto 7 years |
| Cibil Score | Min. 750 |
| Lowest EMI | Rs. 2199.26 per lac |
Personal Loan Interest Rates in Noida 2023
Processing Fees / Prepayment Charges
| | | |
| --- | --- | --- |
| Banks | Processing Fee | Pre Payment Charges |
| Bajaj Finserv | Upto 2.00% | Upto 4% post 1st EMI clearance |
| ICICI Bank | 1999 to 2.50% | Zero or 5.00% |
| Axis Bank | 2.00% | Nil |
| Kotak | 1.5 – 2.00% | 5.00% |
| HDFC Bank | 0.8% – 2.00% | 4.00% |
| Fullerton India | 2.00% | Upto 7.00%, 0% after 3 year |
| Standard Chartered | Up to 1% | Upto 5.00% of loan amount |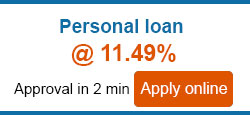 Getting an advantage of location as being a part of National Capital Region and center for IT companies, BPOs and offices of other industries Noida is fast growing city. As more and more Gen-Y is pouring in to explore new opportunities has increase the earnings growth of people. Though a large number of people draw a comfortable salary, nevertheless, they experience a shortfall in their income to purchase hi-tech consumer durables.
As dominated by Gen-Y, an attraction toward having latest gadgets has become a fashion here. Occasionally, at the time shortage of fund one needs to get a personal loan. Personal loan are also common for home renovations and medical emergency as well in Noida. To counter such situations a range of banks and financial institutions are ready to lend the money in the form of personal loan at competitive interest rates with easy payment plan.
You can get Lowest Interest Rates on Personal loans if you are working for these Companies in Noida:
✓ HCL Technologies ✓ Tata Consultancy Services ✓ Aricent ✓ Accenture ✓ Genpact ✓ Aon Hewitt ✓ Wipro ✓ Computer Sciences Corp ✓ Sapient ✓ IBM ✓ Ericsson-Worldwide ✓ Evalueserve ✓ American Express ✓ IBM India ✓ Royal Bank of Scotland ✓ Tech Mahindra ✓ NIIT Technologies ✓ Dell
Eligibility Or Loan Amount in Noida
– Depends on your Credit Score, Bank Policies, Company in which you are working, your Income or salary, Area in which you are live, Work experience etc. Or better to pay your credit cards or loan amounts on time to get more loan amount from banks at the time of apply new personal loans.
Checklist of Documents required for Personal Loan in Noida:
The documentation process is very fast on Personal loans. Following documents are required by financial institutions to process the loan application:
In case of Salaried
Identity proof
3 to 6 months Bank statements
Residence proof
Salary slip
Guarantors & their same set of documents
In case of Self Employed
Balance Sheets
Profit & Loss Account
Partnership Deed & other mandatory documents etc.
About Noida:
Noida, short for the New Okhla Industrial Development Authority, is a city in India under the management of the New Okhla Industrial Development Authority. It is part of National Capital Region of India.
Greater Noida is a census town with a population of 100,000 in the Gautam Budh Nagar district of the northern Indian state of Uttar Pradesh.
Noida is a major hub for multinational firms outsourcing IT services e.g. Sapient, Fiserv, Headstrong, EXL Service, First Flight Courier LTD, Students-Leads, IBM, Miracle, AON Hewitt, Fujitsu, CSC, TCS, WIPRO, Padma Infocom, HCL, Tech Mahindra, Adobe Systems, Ericsson, Dell, Sparta Consulting, Patni Computers, Corbus, Accenture, Samsung etc. Many large software and business process outsourcing companies have their offices in the city.
Development in industry, commerce and trade have led Noida to be a model city in UP. It is a major revenue earner for the government through taxes. The Noida model is now being replicated across various cities in UP, with a proactive development agency working to achieve high growth rates for business, industry and commercial ventures.
The latest issue which is going to impact the upcoming housing projects in Noida is an order from National Green Tribunal, directing Noida Authority to not issue completion certificates for any project falling within a radius of 10 km from Okhla Bird Sanctuary. This has a potential to impact 4000 home buyers who are eagerly awaiting the delivery of their dream homes.