Personal Loan Ludhiana | Interest Rates 2022 | EMI | Documents | Apply
Apply Personal Loan in Ludhiana . Now you can get Instant E-approval, Special Offers, Best interest rates and lowest EMI options from all major banks in Ludhiana through Deal4loans.
Personal Loan Ludhiana details:
| | |
| --- | --- |
| Interest Rates | 10.99% – 20.75% |
| Processing Fees | 0.99% – 3.00% |
| Pre payment Charges | Nil – 5.00% |
| Repayment Period | Upto 7 years |
| Cibil Score | Min. 750 |
| Lowest EMI | Rs. 2174 per Lakh |
Personal Loan Interest Rates in Ludhiana 2022
Documents requirement for Personal Loans Ludhiana: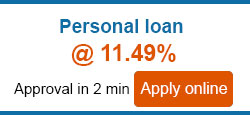 Ludhiana: Personal Loan
Ludhiana a city in Punjab, features a host of small scale manufacturing units such as machine and auto parts, household appliances, hosiery and garments. The city is also tagged with largest manufacturer of bicycles in Asia.
With vibrant Punjabi culture, people of Ludhiana do not hesitate to overspend on marriage and banquet. Dazzling marriage and splendid feast often cause an outflow. To manage this outflow one may visit to bank for sanction of personal loan.
In spite of spending on festivity, discerning people do think to invest money in property. Amount received as personal loan is used for paying as initial booking amount for property.
Additionally, the amount of personal loan can be used in business as well.
You can get Lowest Interest Rates on Personal loans if you are working for these Companies in Ludhiana: ✓ PepsiCo ✓ IndiaMART ✓ Abhishek Industries ✓ HDFC Bank ✓ Kangaro Industries ✓ ICICI Bank ✓ State Bank of India ✓ Technossus ✓ HCL Infosystems ✓ Kotak Mahindra ✓ Bsnl ✓ Dr. Reddy's ✓ Cipla ✓ ICICI Securities ✓ Ceasefire Industries ✓ DLF Pramerica ✓ Punjab Agricultural University ✓ Iol Chemicals & Pharmaceuticals ✓ Oswal Group ✓ Dayanand Medical College & Hospital ✓ Mansarovar Forgings ✓ Alchem Laboratories ✓ IBM ✓ Siemens
✓ Vodafone ✓ CMC ✓ LG Electronics ✓ Axis Bank ✓ Sanofi-Aventis ✓ Self-Employment and Entrepreneur Development Society (SEEDS)
Eligibility Or Loan Amount in Ludhiana
– Depends on your Credit Score, Bank Policies, Company in which you are working, your Income or salary, Area in which you are live, Work experience etc. Or better to pay your credit cards or loan amounts on time to get more loan amount from banks at the time of apply new personal loans.
Checklist of Documents required for Personal Loan in Ludhiana:
Following documents are required by financial institutions to process the loan application :
in case of Salaried
Identity proof
3 to 6 months Bank statements
Residence proof
Salary slip
Guarantors & their same set of documents
In case of Self Employed
Balance Sheets
Profit & Loss Account
Partnership Deed & other mandatory documents etc.
Location / Address of Major Banks in Ludhiana city for Personal Loans:
| | |
| --- | --- |
| Bank Name | Address of Ludhiana |
| Personal Loan Ludhiana | Ferozepur Rd, Ludhiana, Punjab 141001 |
| IDBI Bank – Civil Lines Branch | Janak Towers, College Rd, Civil Lines, Ludhiana, Punjab 141001 |
| PNB Bank | New Kartar Nagar, New Kartar Nagar, Ranjeet Singh Market, City Colony, Ludhiana, Punjab 141008 |
| Corporation Bank – Pakhowal Road | Corporation Bank Bldg, Pakhowal Rd, New Lajpat Nagar, Gurdev Nagar, Ludhiana, Punjab 141001 |
| HDFC Bank | Sayal Complex, Gill Road, Near J K Trading Co., Miller Ganj, Ludhiana, Punjab 141003 |
| Axis Bank Ltd | 8089, ATI Back Side Road, Near BP Pump, Ludhiana, Punjab 141003 |
| Punjab National Bank | Chowk Lakkar Bazar, Chowk Lakkar Bazar, Near Virdi Communction, Brown Road, Ludhiana, Punjab 141008 |
| Bank of India | Guru Tegh Bahadur Market,Near Clock Tower, Post Box No. 7, Ludhiana, Punjab |
| Syndicate Bank | Gill Road, Near H S and Comppany, Miller Ganj, Ludhiana, Punjab 141003 |
| Development Credit Bank Ltd | SCO – 10/11, Feroze Gnadhi Market, Ludhiana, Punjab 140001 |
| Karnataka Bank Ltd | Nirankari Street, G.T. Road, Nirankari Street, Opposite Manju Cinema, Miller Ganj, Ludhiana, Punjab 141003 |
| Oriental Bank Of Commerce | Street No. 22, A.P. Machinery Mart, Jai Mal Road, Ludhiana, Punjab 141003 |
| Allahabad Bank – Chaura Bazar Branch | Beat No.37, Chaura Bazar Rd, Khushi Ram Halwai, Chaura Bazar, Old Ludhiana, Ludhiana, Punjab 141008 |
| State Bank of India (SBI) atm | C/O State Bank Of Hyderabad, Miller Ganj, Miller Ganj, Ludhiana, Punjab 141003 |
| Bank Of Baroda Bhaini Sahib | Vill & P O Bhaini Sahib, Bheni Sahibo, Ludhiana, Punjab 141001 |
| Axis Bank | National Road, National Road, Bhai Wala Chowk, Ghumar Mandi, Ludhiana, Punjab 141003 |
| I D B I Bank | C.M.C. Road, CMC Chowk, CMC Chowk, Ludhiana, Punjab 141008 |
| Bank of Baroda | Mata Bhagwanti Gurdwara Rd, Ludhiana, Punjab |
| PNB Bank | Niggar Mandi Road, Mata Rani Road, Near Hotel Sagar, Mata Rani Road, Ludhiana, Punjab 141008 |
| Axis Bank | Biscuit Factory Road, Arjun Dev Nagar, Karma Hospital, Samrala Road, Ludhiana, Punjab 141007 |