Personal Loan Mangalore | Interest Rates 2022 | EMI | Documents | Apply
Apply Personal Loan in Mangalore – Instant E-approval ✓ Special Offers ✓ Best Personal loan interest rates ✓ lowest EMI from all major banks in Mangalore such as ✓ SBI ✓ HDFC Bank ✓ Citibank ✓ Axis bank ✓ Fullerton India ✓ Bajaj Finance ✓ Standard Chartered.
Personal Loan Mangalore details:
| | |
| --- | --- |
| Interest Rates | 10.99% – 26.00% |
| Processing Fees | 0.99% – 3.00% |
| Pre payment Charges | Nil – 5.00% |
| Repayment Period | Upto 7 years |
| Cibil Score | Min. 750 |
| Lowest EMI | Rs. 2199.26 per lac |
Personal Loan Interest Rates in Mangalore 2022
Documents requirement for Personal Loans Mangalore: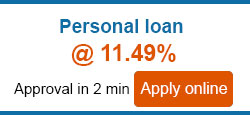 Following documents are required by financial institutions to process the loan application :
in case of Salaried
Identity proof
3 to 6 months Bank statements
Residence proof
Salary slip
Guarantors & their same set of documents
In case of Self Employed
Balance Sheets
Profit & Loss Account
Partnership Deed & other mandatory documents etc.
About Mangalore:
Mangalore, "Kudla" in Tulu, "मंगलूर" in Hindi,Kodiyāl in Konkani, Maikāla in Beary bashe, or Mangalapuram in Malayalam, is the chief port city of the Indian state of Karnataka. It is located about 350 kilometres west of the state capital, Bangalore.
Mangalore's economy is dominated by the agricultural processing and port-related activities. The New Mangalore Port is India's ninth largest port, in terms of cargo handling. It handles 75 per cent of India's coffee exports and the bulk of its cashew nuts. During 2000–01, Mangalore generated a revenue of INR33.47 crore (US$5.49 million) to the state. The city's major enterprises include Mangalore Chemicals and Fertilizers Ltd. (MCF), Kudremukh Iron Ore Company Ltd. (KIOCL), Mangalore Refinery and Petrochemicals Ltd. (MRPL), BASF, Bharati Shipyard Limited and Total Oil India Limited (ELF Gas).
Branch List & Address of Major Banks in Mangalore for Personal Loans
| | | |
| --- | --- | --- |
| Bank | Address | Pincode |
| Axis Bank | Aura The Place, Chilimbi, Urva, Mangalore-575010, Karnataka, Kotekani Rd, Urwa, Mangaluru, Karnataka 575006 | 575006 |
| Bajaj Finserv | 4th Floor, Raj Towers, Balmatta Road, Opp Hotel Roopa, Mangaluru, Karnataka 575001 | 575001 |
| HDFC Bank | M.G.Road, Kayarmanj, Ballal Bagh, Mangaluru, Karnataka 575003 | 575003 |
| ICICI Bank | Rao Road, Ground Floor, Bharath Building, Post Box No 44, Panje Mangesh, Mangaluru, Karnataka 575001 | 575001 |
| Fullerton | Shop No. 1,3,5,7 & 9, 1st Floor, Bridge Square, Bridge Road & Balmatta Road, Mangaluru, Karnataka | 575003 |
| Indusind Bank | Complex, ground Floor, Kodialbail, Hotel Panchmahal, KS Rao Rd, Kodailbail, Mangaluru, Karnataka | 575003 |
| Kotak | Ground floor, Abhiman Commercial Complex, No.4-9-811/8, K S Rao Rd, Kodailbail, Mangaluru, Karnataka | 575003 |
| Tata Capital | Ground Floor, City Trade Centre, Venkappa Garden, Kadri, Managalore | 575003 |